Writer-Reminders
---
Week of Nov 11, 2002 - It's fun to be right...
Volume 1, Issue 46

The weekly ezine with a road map for sidetracked writers.
"Be better writers today than we were yesterday."

Hello to all of you super-productive writers!

Thought for the Week - It's fun to be right...

I admit it. I love being right. And the winner is... THE SHORT AD. Thanks for voting in our very un-scientific poll about whether long or short copy is the best seller. Now we can tell the copywriting gurus that long copy may not always be the best. (Or maybe you just don't want long ads cluttering your email box. No problem!).

You can breeze through this week's tips. I kept them short as we swing into the busyness of the holidays.

Happy writing,
Julie Hood
julie@organizedwriter.com


---
Coming Soon to OrganizedWriter.com!

The Organized Writer's Market Guidelines - Next week!
Mini-Organizing Lessons
---
IN THIS ISSUE

==> Spell-check a web site
==> What to do with all those catalogs
==> A new market source
==> Web sites to trigger ideas and simplify research

Mon, Nov 11, 2002
Communicate on the Web

Be cautious with your "out of office" email notification. Often when I send this newsletter, I get "out of office" responses back. If you work from home, you may not want to let everyone know you won't be there for the next week :).

Tue, Nov 12, 2002
Writer on the Web

Do you need to check the spelling on your website? Visit JimTools.com, click on Spell in the menu across the top, and enter the URL for a web page.

http://www.jimtools.com

Wed, Nov 13, 2002
Books and Magazines (and Catalogs), Everywhere

'Tis the season of catalogs. We are bursting at the seams with catalogs and holiday present ideas. I got six in the mail today and five yesterday.

What's an organized writer supposed to do with all of them?

1. Throw them out. Yep. Sit down this morning, flip through the interesting ones, and order from the ones that fit your present ideas and your budget. Then toss the rest of them in the recycle bin.

2. Look for title ideas. Sometimes the copywriting suggestions in catalogs can trigger the perfect title for your latest masterpiece.

3. Set up a sorting method that works for you. I have a literature sorter where I keep my catalogs sorted by title. Each slot holds a range of letters (A-D, E-H, etc.).


Item # 03023935 at OfficeMax.com

4. Go on a nature walk, and use the 50 lbs of catalogs to press all the pretty leaves you find.

Thu,
Nov 14, 2002
Find Your Favorites

Here's a large list of writers' periodicals and newsletters. It includes both free and subscription-based resources:

http://www.internet-resources.com/writers/wrlinks-wrperiodicals.htm#top

Fri,
Nov 15, 2002
Capture Those Ideas

One of the best ways to sell your articles is to tie them to a specific holiday. Check out
http://www.earthcalendar.net/

to search for holidays. For those of you who are outside the U.S., this site also has holidays by country.

Sat, Nov 16, 2002
Research

Check out iTools.com for a one-stop research center. You can search Google, search Yahoo's directories, search discussion groups, hit the dictionary, translate text and web pages, search newspapers and magazines, find a quotation, and more.

http://www.itools.com

Sun,
Nov 17, 2002
Target Your Market

I've added a new source to the market list below. Check out
Absolute Write's Market Archives:
http://www.absolutewrite.com/markets/archives.htm

The Organized Writer eBook is now available!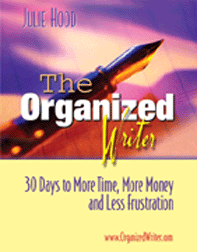 PRINTABLE CHECKLIST
Click HERE for a separate screen for printing.
~~~~~~~~~~~~~~~~~~~~~~~~~~~~~~~~~~~~~~~~~~~~~~~~~~~~
PRINTABLE CHECKLIST for Nov 11, 2002 to Nov 17, 2002
~~~~~~~~~~~~~~~~~~~~~~~~~~~~~~~~~~~~~~~~~~~~~~~~~~~~

DRAW daily (Declutter-Read-Assess-Write)
** For more info, visit
http://www.organizedwriter.com/draw.htm

M T W T F S S
_ _ _ _ _ _ _ 1. Declutter (only 5 minutes)
_ _ _ _ _ _ _ 2. Read (only 5 minutes)
_ _ _ _ _ _ _ 3. Assess (30 seconds to 5 minutes)
_ _ _ _ _ _ _ 4. Write (at least 5 minutes)


Mon, Nov 11, 2002
__ Make notes on a new idea.


Tue, Nov 12, 2002 Accounting Day
__ Post your accounting records.
__ Pay bills.
__ Follow up on outstanding invoices and queries.


Wed, Nov 13, 2002
__ Find a new market using links below.
__ Organize (or recycle) your catalogs.


Thu, Nov 14, 2002 Errand Day
__ Make copies.
__ Return books to library.
__ Make deposit at bank.


Fri, Nov 15, 2002
__ Finish query and submit.
__ Match your query to the market.


Sat, Nov 16, 2002 Weekly Review
__ How was this week?
__ What's up next week?
__ Review your Projects list in your planner and check the
status.
__ Jot the next action steps for your projects on next week's
calendar.
__ Backup your computer files.
__ Virus scan your computer.


Sun, Nov 17, 2002
__ Relax and enjoy!
__ Do something fun today!

JOB/MARKET LINKS

Absolute Write's Market Archives
Writer's Weekly Jobs
Writing-World.com guidelines
Writing-World.com writers wanted
Funds for Writers - Jobs and Markets
Paying Markets List
Freelance Job Bank
Writer's Write Writer's Guideline Directory
Writer's Digest - Market of the Day
Writer's Market.com (subscription only)

Thanks for visiting Writer-Reminders! If you have comments,
success stories, or suggestions, reply to this message or e-mail
me at :julie@writer-reminders.com

- Julie


Writer-Reminders.com: reminders for all writers who want
more time to write. http://Writer-Reminders.com

OrganizedWriter.com: tips and tools for your writing
business. http://OrganizedWriter.com


THE FINE PRINT

Your privacy is very important to me. Your email address will never be sold by Writer-Reminders. For more on Yahoo's privacypolicy, visit http://privacy.yahoo.com/privacy/us/

Copyright 2002 Finally Organized LLC. All rights reserved worldwide. This newsletter is provided with the understanding
that the author is not engaged in rendering legal, accounting or other professional services. If legal or other expert
assistance is required, the services of a competent professional should be sought.

Writer-Reminders and OrganizedWriter.com provide links to other Internet sites solely as a convenience to its users.
Writer-Reminders and OrganizedWriter.com do not guarantee, approve or endorse the information or products available at these sites, nor does a link indicate any association with or endorsement by the linked site to Writer-Reminders and
OrganizedWriter.com.

I'd hate for you to leave. To stay subscribed but put your email message delivery on hold, send an email to
Writer-Reminders-nomail@yahoogroups.com To be removed from this list, send an email to Writer-Reminders-unsubscribe@yahoogroups.com

To subscribe,