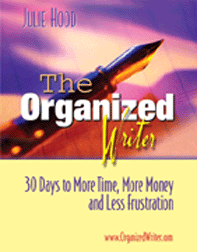 "This is a book no writer should be without..." Read more from WriteThinking.net.

A Booklocker.com and WritersWeekly Bestseller!
The Organized Writer's
30-Day Plan
Section One: Let's Get Organized
Day 1 Your Organizing Personality
Day 2 Your Master List
Day 3 The Sidetracked Writer's
Planner
Day 4 What Works for You

Section Two: Time
Day 5 Make Your Time Map
Day 6 Goals? Who Me?
Day 7 Assign Your Activities

Section Three: Workspace
Day 8 Your Writespace
Day 9 What's in Those File Drawers?

Section Four: Online Workspace
Day 10 Your Most Time-Saving Tool
Day 11 Communicate on the Web
Day 12 Writer on the Web
Day 13 Books and Magazines, EVERYWHERE
Day 14 Find Your Favorites

Section Five: Idea to Query
Day 15 Capture Those Ideas
Day 16 Research and Clippings
Day 17 Target Your Market
Day 18 A Guideline Database Just for You
Day 19 Writer's Clips
Day 20 Quick Queries
Day 21 Email Queries
Day 22 Track Your Submissions

Section Six: Manuscript to Payment
Day 23 The Perfect Manuscript
Day 24 Show Me the Money
Day 25 Taxes Made Easy
Day 26 More Taxes?!? Self-Employment and Estimated Taxes

Section Seven: What Else?
Day 27 Update Your Skills
Day 28 Make Your Household Hum

Section Eight: Go Forward...Organized!
Day 29 Rework Your Time
Day 30 What's Next?

Media Room

The Organized Writer:
30 Days to More Time, More Money, and Less Frustration
by Julie Hood


Any questions? Email the author at julie@organizedwriter.com.
Search this Site



Free Planner


For weekly tips, tricks and resources, sign up for the free weekly newsletter, Writer-Reminders!

Get the FREE ebook,
The Sidetracked Writer's Planner, when you subscribe.
Privacy policy

For advance notice of site updates, new products, and special offers, sign up for the Organized Writer newsletter!
Privacy policy

Tell a Friend

Like this site? Tell a friend:
[ FREE referral systems! ]

Comments

"Julie Hood's excellent e-book, The Organized Writer, can help you achieve the organization you need to be more productive as a writer...
If you really want to organize your writing life (and maybe the rest of your life, too) this practical and positive e-book is a must-have!"
-Sherry Ramsey, review at TheScriptorium.net

Read more reviews...